10dez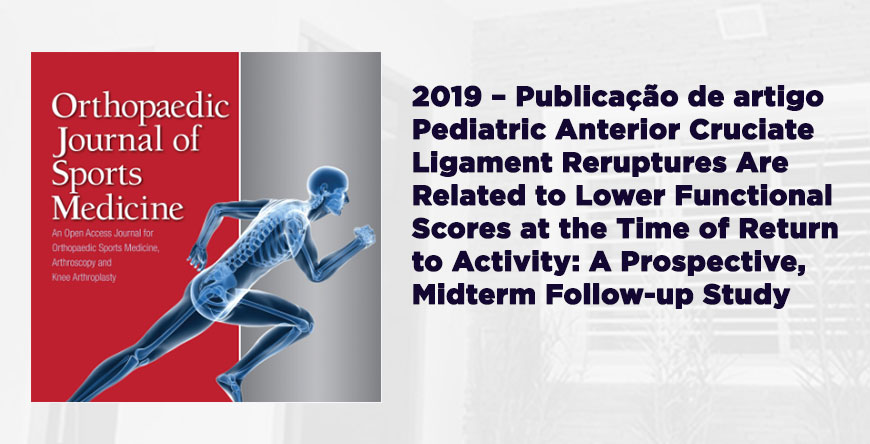 Postado por: Dr Diego Astur
Publicação de artigo Pediatric Anterior Cruciate Ligament Reruptures Are Related to Lower Functional Scores at the Time of Return to Activity: A Prospective, Midterm Follow-up Study
Background: Skeletally immature patients show a higher rate of anterior cruciate ligament (ACL) reruptures. A better understanding of the risk factors for an ACL rerupture in this population is critical.
Purpose/Hypothesis:The objective of this study was to analyze preoperative, intraoperative, and postoperative characteristics of pediatric patients undergoing ACL reconstruction and determine the relationship of these factors with an ACL rerupture. It was hypothesized that patients with worse activity scores and knee function at the time of return to activity would have a higher rate of ACL reruptures at midterm follow-up. Additionally, it was hypothesized that most ACL reruptures would occur before age 20 years in the study population.
Methods: A total of 65 skeletally immature patients (age <16 years) with ACL ruptures underwent reconstruction with a quadruple hamstring tendon graft between 2002 and 2016. Of these patients, 52 were available for the study. Patient characteristics, surgical details, Tegner and Lysholm scores, and ACL reconstruction outcomes were recorded. Patients were analyzed and compared according to ACL rerupture occurrence.
Results: Of the 52 patients, 18 (34.6%) experienced an ACL rerupture after reconstruction. The majority of reruptures (77.8%) occurred before age 20 years. There were 2 patients who sustained ACL reruptures during the rehabilitation period before they returned to activity. The majority of reruptures occurred after 12 months (83.2%), with 66.6% occurring after 24 months. Upon returning to activity between 6 and 9 months postoperatively, patients who ended up with intact ACL grafts reported 69% higher mean Tegner scores (P = .006) and 64% higher mean Lysholm scores than patients who sustained ACL reruptures (P < .001). Within the limits of this study, we could identify no statistical relationship between the rate of ACL reruptures and different sport types, surgical techniques, or associated injuries (P > .05).Conclusion:Skeletally immature patients who underwent ACL reconstruction and sustained ACL reruptures had lower Tegner and Lysholm scores upon returning to activity than patients without ACL reruptures. In addition, most ACL reruptures occurred in patients younger than 20 years (77.8%) and after 24 months postoperatively (66.6%).
Escreva um comentário
Comentário enviado com sucesso.
Aguarde à aprovação do mesmo!
Houve um erro ao enviar seu comentário.